The power of the shower cap!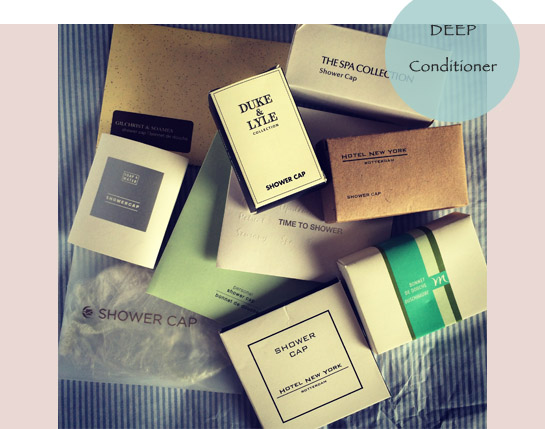 Dry hair. The story of my life. So a habit I should have picked up much sooner was 'deep Conditioning'! Here is my deep conditioning hair ritual, (when I have the time)
One rule I had to stay true to is; 'taking the time whenever I need to wash my hair'. I want to wash and go, but it better to postpone it for the next day when you do have that little bit of extra time.
Haw to approach your dry hair? Give your hair the attention you expect in a salon and give yourself a serious at-home deep-conditioning treatment. All you need is the conditioner and a shower cap (or saran wrap and some people will even use a plastic grocery bag). Wash your hair and towel dry really well. Slather on the deep conditioner like it was free, especially at the ends. Reminder: Look for the words "Deep Conditioner" on the bottle and ensure that's what you get. Using just a normal conditioner, or a hot oil treatment will not give you the same benefits that a true deep conditioner will.
Tips number 1: Favorite leave-ins
In Essence's top ten Deep Conditioners are mentioned Shea Butter for natural hair and Jane Carter 'Nutrient Replenishing Conditioner. Both are on my list to, and my personal favorites are Shea Moisture 'raw shea butter restorative conditioner', just used it this morning and Quench utra rich Conditioner by Hairrules. But I just finished that one.
Then, leave it in sittin your hair for at least 20 minutes. And what really helps this process is a shower cap. I wasn't so consequent at first, but once you get used to putting on that shower cap, you will notice the difference.
I don't have a store nearby that sells those 'one time use' shower cap, so whenever I stay at hotels I take home the shower caps for exactly this purpose, and have quite a collection right now, so I am covered!
Then I go watch a 25 minutes of 24 kitchen and rinse it out.
Tip number 2: Do NOT blow dry your hair.
Just give it a break and let it air-dry.
Tip number 3:Keep it Regular
Hair that is deep conditioned regularly is more manageable, softer, less prone to breakage and frizz.
All inspired? Watch this gorgeous vlogger on her hair ritual:
Sun kiss Alba