Brush Green!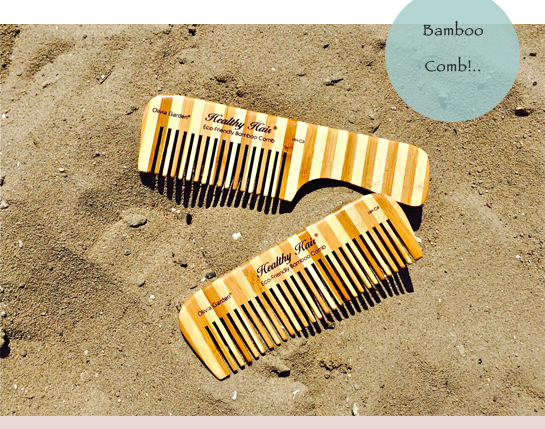 At the Mirror, 'The Hair Convention' I saw some beautiful new products, brands and hairstyles. But my eye caught these beauties…..
Not wooden, but bamboo combs. I have heard over and over again, that wooden combs are more hair friendly, but they are harder to find.
Why wood? Wood does not create static electricity, which causes a loss of the hair's energy to the brain. Wooden bristles gently massage the scalp and move natural oils through the hair. This aids in blood circulation, excess sebum absorption and the removal hair impurities. Massaging the scalp helps promote hair growth and stimulate acupressure points. When exposed to a blow dryer, the brush stays cool because wood does not conduct heat. When hair is wet the wooden bristles glide easily through the tangles. Some wooden brushes and combs are naturally hypoallergenic.
But apart from all these reasons to choose for a wooden comb for your hair. Why bamboo wood? On the site of BambooGrove.com you can find a more detailed explanation, but in a nutshell:
One reason is the renewable resource. Depending on the species, bamboo can be harvested in one to five years. Hardwoods like oak take at least forty years to mature before they can be harvested. Almost 1 million acres of forests are lost each week worldwide to deforestation. Bamboo's versatility as a substitute for hardwoods offers a chance to drastically reduce that figure and protect the forests that we have left.
It also absorbs greenhouse gases. Bamboo absorbs carbon dioxide and releases 35% more oxygen into the atmosphere than an equivalent stand of hardwood trees.
Some species of bamboo grow more than three feet each day! No plant on the planet features a faster growth rate. When it is harvested, it will grow a new shoot from its extensive root system with no need for additional planting or cultivation. An onther advantage versus regular trees, there is very little waste. After harvesting, virtually every part of the plant is used to make a wide variety of products. From soil-enriching mulch to beautiful furniture to chopsticks, every part of the plant can be utilized.
Interested in more info or products? Check out their site www.hairoright.com and for my Dutch readers, www.hairoright.nl