White moms, kids with black hair – part 1: Get informed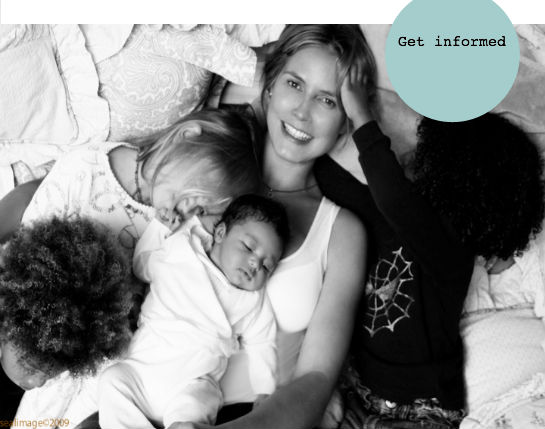 Earlier this month, model, role model, but definitely also known as a successful businesswoman Heidi Klum, gave an interview to the Huffington Post about the haircare of het 3 kids she has with the singer Seal.
Quote:
Henry, Johan and Lou — my three youngest — have super beautiful locks. There hair definitely requires a different kind of care than my daughter Leni's hair. I've learned to never brush their curly hair when it's dry because then it'll frizz. I use lots of conditioner and detangle, and only go to hairdressers who really KNOW how to cut and style curly hair. I've let my boys' hair grow really really long, and just recently they asked me to cut off their beautiful hair! It was funny because it was definitely harder for ME in some ways, as I absolutely love their hair! I'm their Mom. I've been the one to carefully brush and help them care for it all these years, but I do want them to be who they want to be. I think that's really important, to allow kids to express themselves everything from the way they dress to how they want their hair. And now, that meant short.
And there it is, she points out the number one rule when a white mother is expecting a bi-racial child. Get informed! Afro hair takes a totally different approach when it comes to hair care, and do's and don't on how to best take care of your hair is often passed through by your mom from generations and generations of experience. As a child and being bi-racial myself, I often noticed that black kids and mothers with the same hair texture, often noticed the lack of knowledge that I about how to treat my own hair. The would often say: "I can spot a 'mixed chick' with a white mom from mills away, just by how the hair looks. So I wanted to know how to spot a bi-racial child with a white mom and came up with these 5 signs.
1. Hair is too dry and briddle!
Black hair is often dry and needs to be moisturized one way or the other. Whether you use an oil or leave in conditioner. People with European hair often associate greasy hair as dirty and wash their hair way more often than is good for black hair. So they tend to wash out the protective oils, and often use to little moisturizer to keep the hair conditioned which gives it a frizzy look.
2. Dented and uneven fro.
A black woman or man styles a fro in a perfect circle with an afro pick. The method can take a while and take precision, experience and practice, practice, practice.
3. Using rubber elastics.
No go. The rubber will damage your hair permanently, and is a sign of not knowing.
4. Never having braids or done by a black neighbor or friend.
Getting perfect braids on black hair is a skill that takes years and years of practice and being familiar with the texture. You don't just learn by trying twice, but doing it over and over again. You don't find a lot of white moms that can really braid black hair like that. I haven't met them yet.
5. No natural fear for water.
I remember going on a holiday, and having a small knot and jumping in the water, I notices that the black kids tried to keep their hair dry, or were wearing protection. Or even, trying to stop me from going in without protecting my hair. It simple would never be something I would thing of. Why would my hair not get wet?
Resent research even shows that this is the number one reason why black women work out at the gym way less then white women do. And after discussing these numbers with a view of my friends with black hair, they confirm. Getting sweaty and sometimes even getting the hair wet creates new problems and is too much hassle if you have a busy schedule.
Look out for part 2, and read the results that came from interviewing white moms and there experiences with kids with black hair!