White Bald Man & Black Hair Woman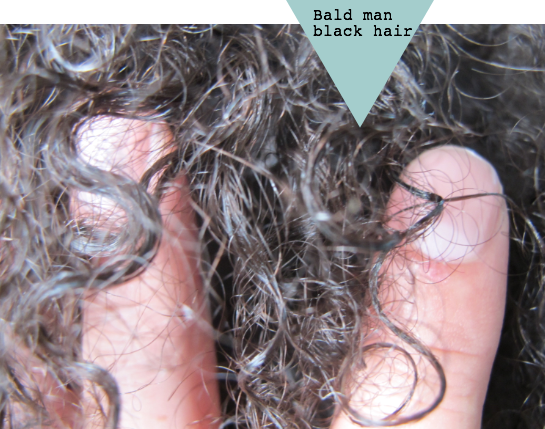 Being a white bald man married to a beautiful black woman, the strangest things can happen to you.
Last month I found myself in a ethnic beauty supply store in the Eastern part of Amsterdam purchasing hair extensions. "May I have Mermaid extensions #4 please?" I know this by memory.
There were only black women in the store shopping for wigs with the exception of the obviously gay Indian storeowner. "How many you like?" "Eh…well, can I have eighty packs please?"
"Sure.. you like conditioner?" he said looking at my shiny, reflecting bald white head. I began to wonder…maybe he was thinking that at midnight I wander the streets of Amsterdam as a drag queen. This thought made me smile, secretly.
Sometimes I help my wife remove her extensions. This is always a challenge. I usually use scissors to keep up with her since her unbraiding skills are much better than mine.
Believe it or not, this feels like a very intimate process. I actually like doing it. If you wonder… no, I never played with My Little Pony as a kid, I just love my wife's hair.
Last week I attended the Sziget Festival in Budapest Hungary. Over 350,000 people were in attendance. Only 1% consisted of African-Americans, mostly performing artists by the way.
Being station-manager of a Dutch pop/rock radio-station, backstage I ran into Skin of Skunk Anansie. She had some time to kill. We chatted briefly, as we recently met in Amsterdam. As part of small talk, I asked her about her shaved head. Before we knew it we were in the midst of an in-depth discussion on black hair, and at one point she laughed out pretty loud: "this is the first time ever, I didn't get the usual stupid questions about me shaving my hair from a white guy".
Every time I have to go the USA or even UK for business, my wife gives me a list of hair products to buy. I can find the products at any regular store: Duane Reade, Boots, Sephora or Macy's, no problem.
The availability of products in USA and UK is vastly from continental Europe. This is extremely weird when you think of the number of black hair people living in Western Europe. One would think that the hair product-industry would have caught up to speed in Europe by now. Personally I don't mind, I love my wife's hair and all that comes with it!
Wilbert Mutsaers
{Image courtesy by Wilbert Mutsaers}