Hairsecrets Nicole Bus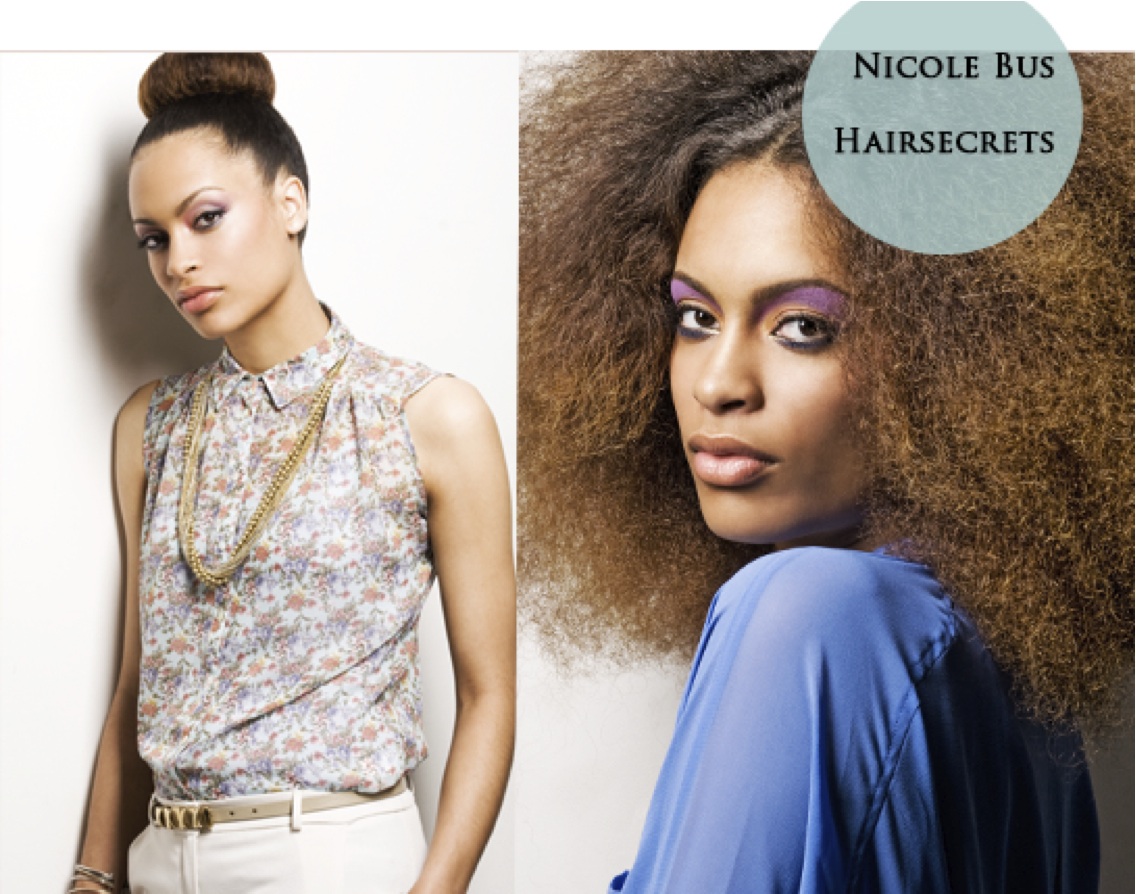 You might have her album already, or seen her in magazines, but if you did, the first thing that stands out is her hair! Reason enough to ask Nicole Bus some questions and try to discover her hairsecrets.
What hair tool of product could you not life without?
This big Afro brush and Shea Butter, are really must for my hair.
Especially the brush if I don't have that one, I could rather grow Dread, because that is what will happen if I don't use my Afro brush.
What was your last bad hair day, and what did you do?
To be exact, I had a bad hair day 2 weeks ago, I didn't feel like doing anything, and this is what I did.
I used all my mussel power '(because my hair is real heavy) to make one round bun on top of my head. You know, that 'lazy model' look. So that's what I do when I don't feel like doing my hair proper, my solution to cover it is a ponytail cute bun.
If you could chance anything about your hair, what would that be?
That my hair was thicker and longer! As a little child my hair was enormous,
Even bigger then it was now, but by straightening and coloring my hair it became dry and it sometimes broke of. So knowing the results of natural products and taking good care of your hair, I simply refuse to straighten or color my hair ever again. May you ever hear me considering it, just let me read this interview over again ☺
What do you like most about your own hair?
I like the way it pops up the moment I only wash it and leave it to dry without using any product. Of course it looks very dry, but still it gives me a classy vintage look, and I love it! The moment I put a product in my hair it gets another texture, even more curly.
But in all honesty, natural afro hair is most definitely one of my favorite textures!
What are your hair secrets? (How do you 'manage' and maintain your hair)
Well I use hair masks, My mom is a hairdresser, and she introduced me to
a new product called "You". But I have to be honest, I always keep searching for better products, testing them, and I never really stayed with one.
Only this past season, I used Curl Control from Andreleon. At first it seemed to work, but after a period of time it made my hair feel thinner, so I stopped with using that product. Now I'm still in a big research for the best product.
If it was possible to switch your hairstyle or texture, who would you swop with?
I think I would go for Chinese hair texture or extreme like Grace Jones.
Something I think that would be just as beautiful classy and funky as my own hair.